Tapati Sarkar
By Krown Themes Collaborator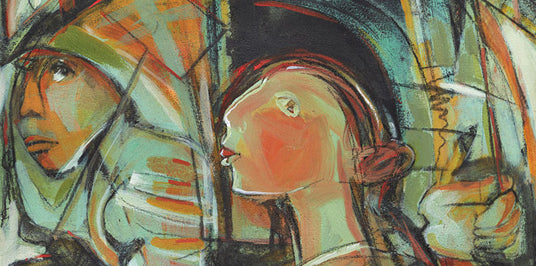 Tapati Sarkar has been one of the most prominent female artists of the modern Indian art of the post-eighties. She stands among those few artists to have established themselves in a contemporary timeline in that era. In her works, Sarkar touches upon the underlying social reality of a time which can almost be classified as a common national character when considering the lives and engagements the working class has had back then.
Tapati Sarkar features the society, its movements and its people in her works. Her men and women are drawn with references to the common man and their struggles. Sometimes the struggles are represented in the action figures, sometimes by the representation of their mere moods.
Irrespective of which of her works you are in the presence of, you will be captivated by the bold lines that make up the characters. The lines rein in feelings, emotions, sound, and silence within them. You can hear the characters, experience their times and lives and listen to their minds' chatter as if they are there for real.
She holds a bachelor degree in arts from the University of Kolkata. Her works have been at the core of many groups shows around the country. Sarkar's solo exhibitions have been a well-attended affair. Sarkar has contributed to newspapers, periodicals & television. She also has a high interest in the tourism sector.
The emancipation of women against any domination is her specialization. Her works rightly reflect her beliefs about women's liberation as well. Be it in the lone woman who can hold you in her stare or one in the goddess' form with a trident, the power of the woman portrayed is never easily forgotten by anyone who has been in the presence of her works.
To see artworks by Tapati Sarkar, click here
EDUCATION
1973 Graduate(Bachelor of Arts)From University of Calcutta.
1979 Graduate of Government College of Art & Craft.
1980 Completed Art Appreciation Course from the University of Calcutta.
SOLO EXHIBITIONS
1987 Birla Academy of Art & Culture.
1987 Art Gallery of International Airport Authority-Calcutta.
1989 Academy of Fine Art - Calcutta.
1995 India International Centre of Delhi.
1996 Delhi Art Gallery.
1998 Birla Academy of Art And Culture.
1998 Peace Movement Exhibition in Jhargram, Medinipur.
2004 Point of View at Chemould Art Gallery, Kolkata.
GROUP SHOWS
1977-1998 Birla Academy of Art & Culture Annual
1982 National Exhibition Of Art, Lalit Kala Akademi, New Delhi
1982 Seventh All India Graphics Exhibition, Hyderabad
1983 Academy Of Fine Art, Calcutta
1987 Dialogue - Sri Dharani Art Gallery, New Delhi
1989 Young Faces In Contemporary Indian Art, Calcutta
1989 Gallery Chemould.
1992 India Festival to The U.S.A.
1993 The Group - Academy of Fine Arts, Calcutta
1997 Indian Life Saving Society of Calcutta.
1998 Participated In Anti- Nuclear Art Exhibition, Calcutta
1998 Birla Academy of Art And Culture, Mumbai
1999 Max Mueller Bhavan, Calcutta
1999 Utopia - Max Mueller Bhavan, Calcutta
2000 Prabaha - Biswa Banga Sammelan Academy of Fine Arts, Calcutta
2000 Indian Contemporary Art 'Bengal-2000', Lalit Kala Academy, New Delhi
Share this