Antony Raj
By South Asian Art Gallery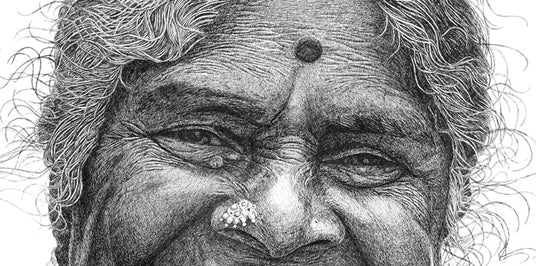 Antony Raj's 'acquaintances' are likenesses that speak from their still existence. They make acquaintance with whoever crosses their path. And they dig deep into their conscious and stay right there.
What Antony Raj achieves on his canvas transcend words simply because of the fact that the faces he draws are more photographic in detailing than any artist's strokes. His works are just the testimony to how keen an eye and understanding of human emotions the artist has! The artists breathe into a series of amazing expressions. Like a psychiatrist, he ably singles out very potent expressions from the emotions of his muses, whom he would come across in his daily jaunts – in mundane surroundings, going about their everyday life.
The most interesting thing is that Antony Raj's acquaintances are presented to the viewer in all their originality – the costumes, without any class with any premeditated ideal or ideology, without any preconceived notions, the cultural representations on the person intact… The faces he showcases have very intrinsic work: be it in the wrinkles of an aging face or the stray hairs caught in the wind. The play of light is used advantageously thereby creating mighty influencing and unforgettable personas. Hispen and ink acquaintances may remind the viewer of someone they know or have met in the passing.
To see artworks by Antony Raj, click here
Share this