Ajay Deshpande
By South Asian Art Gallery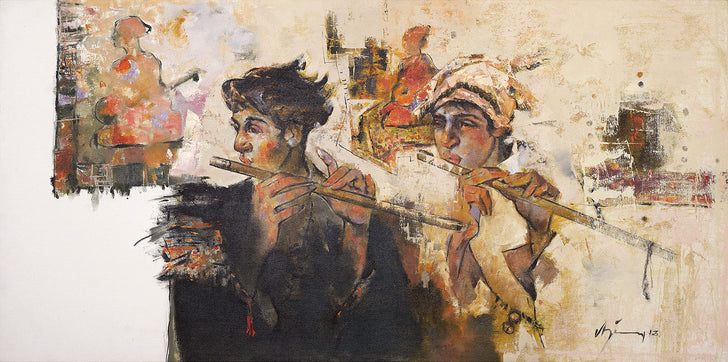 Artist Ajay Deshpande is actually a storyteller. He turns his conversations with his subjects on canvas to beautiful stories that art lovers can feel unfold in front of them in all their color, drama and original setting. He finds his subjects in people, animals, and objects that we come across in our everyday life in the small winding lanes to the highways of India, some of whom we notice and keep in our mind's camera and others whom we don't. His work is a journey into the lives of these people and objects that add tune along the periphery of our life circle. To an outsider, his work will be a journey into the land of his people, their lives, their moods, music, dance, and life.
Deshpande comes from the prestigious Abhinav Kala Mahavidyalaya, Pune, India. He has two running themes – "Tuning with the Past" and, "Goat". His "Tuning with the Past" is aptly titled. The canvases capture his varied memories of growing up in a culturally rich and diverse small village in India. The itinerant village musicians, stray animals and singing bird's spring to life in his canvases, their spontaneity taking center-stage, transporting the viewer to the artist's world. His portraits are much evolved and they speak a language of refinement despite the rustic undertones. His other pet love is his series called "Goat", where he places his 'lost-in-his-own-thoughts' muse against very striking and oddly balanced backgrounds producing very distinctive and amusing endearing images.
To see artworks by Ajay Deshpande, click here
EDUCATION
1992 Diploma in Drawing and Painting
1994 Art Teacher Diploma, Abhinav Kala Mahavidyalaya, Pune
1997 DIP.A.ED.
SOLO SHOWS
2009 Nag Foundation, Pune
2009 Malaka Spice, Pune
2007 Ray Art Gallery, Pune
2005 Balgandharva Kala Dalan, Pune
2005 'Charisma Art Gallery', Pune
2001,05 Malaka Spice, Pune
1998 Café Sunrise, Pune
1997 Print Exhibition, Pune
GROUP SHOWS
2013 Within & Without Ayatana Gallery, Pune
2013 Boundless, Eldora Art, Mumbai
2013 Pune Biennale, Pune
2013 Ayatana Art Gallery, Pune
2012 FLASH - Ark Gallery, Pune
2012 The Blueart Gallery, Delhi
2011 "6 SENSE'' Art2day Gallery, Pune
2011 "Language of Emotions', Hyderabad
2011 "Creative Pursuits''Renaissance Gallery, Pune
2011 "Art With Heart" Art2day Gallery, Pune
2011 Jehangir Art Gallery, Mumbai
2010 State Gallery of Fine Arts, Hyderabad
2010 Art2Day, Pune
2010 India International Art Fair, New Delhi
2010 Freedom Gallerie52d - Kolkata
2010 Ray Art Gallery, Pune
2010 Indian Ateliers Gallery, Goa
2009 Nag Foundation, Pune
2009 International Centre (Indian Ateliers Gallery), Goa
2009 Art-desh', Mumbai
2008 Nehru Centre', Mumbai
2008 Art & Soul of Deccan, Artmosaic Gallery, Singapore
Share this