K.M. Adimoolam
By South Asian Art Gallery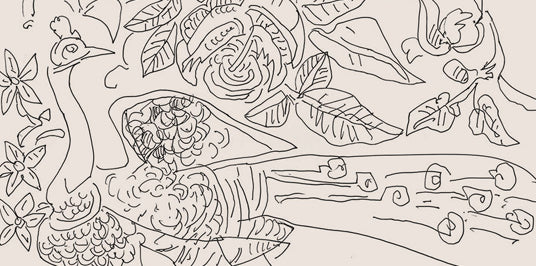 K.M. Adimoolam was born in Tiruchirappalli in Tamil Nadu in 1938.  Adimoolam was a born artist who recognised his leanings for the pen, brush and canvas very early in life. It was to become a discovery that would change his life for ever. He set off to Chennai, leaving behind the steeped-in-history – Tiruchirappalli, taking with him the sights, sounds, smells and impressions of the great place and its people. In Chennai he found a professional direction to his quest under the able guidance of Shri Dhanapal in 1959. Under the great sculptor's tutelage, he enrolled at the School of Arts and Crafts. He left the institution in 1966 with a Diploma in Advanced Painting. The immediate years of him leaving the school of arts saw him devotedly creating a series of black and white portraits of a personality that influenced him greatly at the time – the father of our nation, Mahatma Gandhi. His Mahatma series numbers a big hundred covering about 60 years of Gandhiji's life and work.
"My drawings and paintings help to express my feelings. My drawings are not the exact copy of what I have seen through my eyes; but I feel they are the impressions of beauty, which are constantly imprinted on my inner vision and emerge as black and white forms on paper," he once said.
The other collection he has ardently created is a series on the Kings of India. India's rulers in all their valor and glory are captured on paper with a brilliance unmatched. Each of the works from his Kings series are different, by expression, depth, splendour and majesty, yet they all radiate with imposing pride and sense of grandiose. Reminiscent of an era long gone, his sketches are quite the collectors' dream.
 To see artworks by Adimoolam, click here.
Education
1960-66   Government College of Arts & Craft, Chennai, India
Selected Posthumous Exhibitions
2012    'One Eye Sees, the Other Feels', The Viewing Room, Mumbai, India
2010    'Who Has Seen Gandhi?' presented by Tangerine Art Space at Raj Bhavan; KynKyny Art Gallery and Tangerine Art Space, Bangalore, India
2010       'K M Adimoolam: A Retrospective', Jehangir Art Gallery, Mumbai, India
2009       'Indian Harvest', presented by Crimson - The Art Resouce, Bangalore at SG Private Banking, Singapore
2008       ''From Beyond The Vindhyas'', Ganges Art, Kolkata, India
Selected Solo Exhibitions
2007       'Abstract', Art Motif, New Delhi, India
2006       Solo Show, Saffronart, New York, USA as well as Online show at Saffronart.com
2005       Berkeley Square Gallery, London, UK
2003       Crimson Art Resource with Windsor Sheraton, Bangalore, India
2000       Art Heritage, New Delhi, India
1999       Crimson Art Gallery, Bangalore, India
1994       British Council, Chennai, India
1993       Crimson Art Gallery, Bangalore, India
1987       Jehangir Art Gallery, Mumbai, India
1981       Jehangir Art Gallery, Mumbai, India
1969       Sarala Art Centre, Chennai, India
1969       100 Drawings on Gandhiji to Mark his Birth Centenary
1966       First Solo Show, Chennai, India
Group Exhibitions
2007       'Six Abstract Artists ' Show', Akar Prakar Gallery, Kolkata, India
2006       India Fine Arts, Mumbai, India
2006       Organized by Vinyasa Galery, Chennai at New Delhi, Mumbai, Bangalore, Chennai
2004       'Indian Artists' Show', Prakriti Gallery, Hong Kong
2004       'Still Life', Art Motif, New Delhi, India
2003       Indian and Korean artists at Korea
2002       'Three Artists' , Anant Art Gallery, New Delhi, India
2001       Art-Motif, New Delhi, India
1999       'Six Indian Artists', London, UK by Maya Art Gallery
1996       Exhibition to raise funds for Jehangir Art Gallery, Mumbai, India
1995       Group show of Indian Artists organized by Sarala''s Art Centre at Tokyo, Japan
1993       ''Wounds'', Centre of International Modern Art (ClMA), Kolkata, India
1992       Sakshi Gallery, Bangalore, India
1992       Southern Region Art Exhibition by Birla Academy of Art & Culture, Kolkata, India
1991       ''9 Indian Artists'' by Walk-in-Gallery, Singapore
1991       ''Rimbaud-91 '', organized by Alliance France De Chennai, Chennai and France
1990       Dhoomimal Art Centre, New Delhi, India
1989       ''Nature & Environment'', organized by Lalit Kala Akademi, New Delhi, India
1988       Sakshi Gallery, Chennai, India
1983       Art Heritage Show, New Delhi, India
1973       Seven South Indian Painters, Australia
1972       Twenty Five Years of Indian Art, New Delhi, India
Honours and Awards
1979       National Award, Lalit Kala Akademi, New Delhi, India
1978       Lalit Kala Academy, Chennai, India
1973       Academy of Fine Arts, Kolkata, India
1965       Hyderabad Art Society''s Award, Hyderabad, India
1966       Mumbai Art Society''s Award, Mumbai, India
1965       Lalit Kala Academy, Chennai, India
1964       Lalit Kala Academy, Chennai, India
1963       Chitra Kala Parishad, Bangalore, India
1963       Lalit Kala Academy, Chennai, India
Share this